On a sunny day in Berkeley, California, in 1942, a woman sees a sign in a post office window, returns to her house, and matter-of-factly begins to pack her family's possessions.
Like thousands of other Japanese Americans they have been reclassified, virtually overnight, as enemy aliens and are about to be uprooted from their homes and sent to a dusty internment camp in the Utah desert.
In this lean and devastatingly evocative first novel, Julie Otsuka tells the story of one Japanese American family from five flawlessly realized points of view—the mother receiving the order to evacuate; the daughter on the long train ride to the camp; the son in the desert encampment; the family's return to their home; and the bitter release of the father after almost four years in captivity. When the Emperor Was Divine is a work of enormous power that makes a shameful episode of our history as immediate as today's headlines. – www.julieotsuka.com
Article by Amy Wolf Photo by Kathy F. Atkinson October 28, 2022 Author Ahmed M. Badr discusses life as a refugee at First Year Common Reader event For too long, the global conversation around the refugee crisis has excluded the voices of the refugees themselves. Ahmed...
read more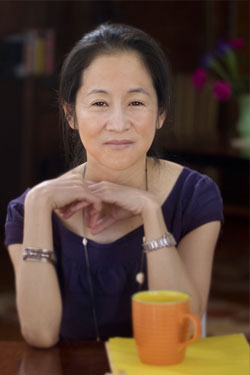 Julie Otsuka
Julie Otsuka is the author of two novels, The Buddha in the Attic, which won the PEN/Faulkner Award, France's Prix Femina Étranger, and was a finalist for the National Book Award, and When the Emperor Was Divine, which won the Asian American Literary Award and the American Library Association Alex Award. Her work has been translated into more than twenty languages and sold over 600,000 copies. Her short story, 'Diem Perdidi', will be included in '100 Years of the Best American Short Stories', which will be published in October 2015. A recipient of a Guggenheim fellowship and an Arts and Letters Award in Literature from the American Academy of Arts and Letters, she lives in New York City, where she writes every afternoon in her neighborhood café.